Thank you!
15th Anniversary Sale Has Ended!
SALE ENDS: Nov 15, 2020 11pm (Japan Time)
Eligible Cat Toys for 15th Anniversary Sale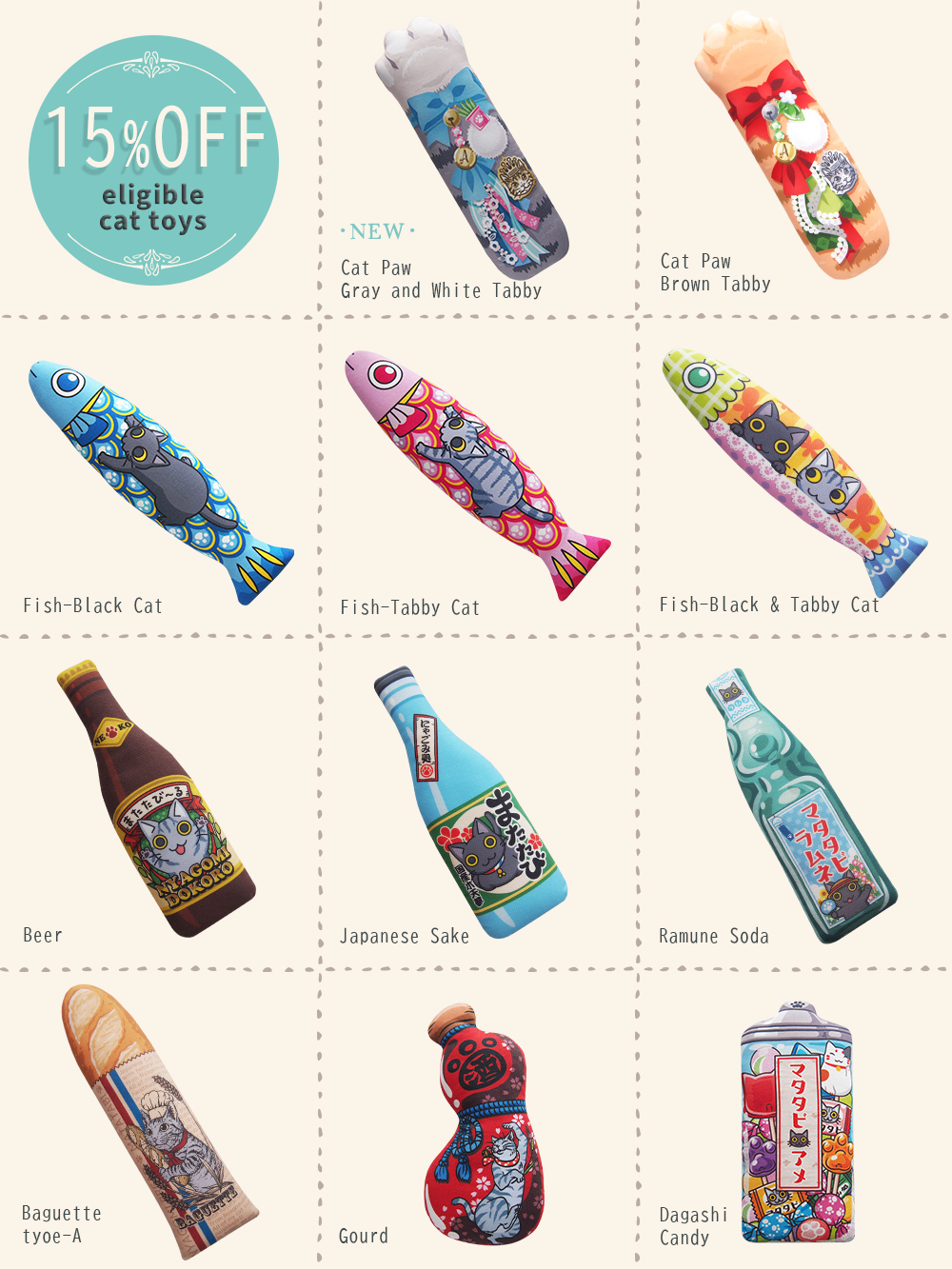 ---
Nyagomidokoro introduces our handmade cat kicker toy with natural Japanese silvervine. Silvervine, a natural alternative to catnip, can make your cat "drunk." Your cat might show behavioral reactions include rolling, chin and cheek rubbing, meowing, drooling and licking. Silvervine is very popular and commonly used for cat toys in Japan.
All cat toys are designed and handmade with love by Nyagomidokoro.
Please enjoy Cat Kicker Toys with Japanese Silvervine!
DETAILS
SIZE:Cat Paw 3.1 × 9.4 in (8cm × 24cm), Fish 9.4×2.3 in (24cm × 6cm), Bottle 9.5×2.3in (24cm×8cm), Ramune & Baguette 3 × 9.5 in (7.5cm × 24cm), Dagashi Candy 7.5×3.7 in (19cm × 9.5cm), Gourd 7.5×3.7 in (19cm × 9.5cm)
The Matatabi (Japanese silvervine) in cat toys are from Ehime, Japan.
All materials are MADE IN JAPAN.
Ship from Japan
NOTE
Some cats do not respond to Silvervine.
The smell of silvervine will gradually fade away after the use.
Although I make Neko Kicker by using strong canvas fabric, if your cat is a biter, Neko Kicker might get worn out quicker.
Your cat might show strong responses to the silvervine such as kicking and chewing excessively in the first few minutes; however, he/she will calm down within 10 minutes or so.
CAUTION
This toy for adult cat only.
If your cat has an ALLERGIC reaction to silvervine, stop using immediately.
Let your cat play with this toy under your supervision to prevent any accident.
IMPORTANT
Due to agricultural restrictions, your country might not allow SILVERVINE from Japan.
Before ordering, please make sure your country does not have these restrictions.
See All Cat Toys